Celebrate our nation's independence all summer long with these 14 Berry Patriotic Sweet Treats...
Just so you all know, we are just under a week until the 4th of the July. Like 6 days, to be exact.
We are keeping things pretty low key this year. Since my parents will be out of town on vacation next week, it will just be us. We are going to spend the day together as family, grill out, break out the corn hole & sparklers, and then catch the fireworks from the lake on a blanket from our front yard.
My daughter has been really looking forward to "American Day" pretty much since summer vacation started over a month ago (yes, that is what she calls it ;) ).
While we won't be hosting & entertaining our usual holiday crowd for the 4th, I am still planning on whipping up a little red, white, & blue sweet treat for the four of us to enjoy.
When perusing some of my favorite food blogs for patriotic dessert recipes ideas, I started noticing a theme going on- summer berries lend themselves very well to the 4th of July color scheme.
Think about it... Juicy, red strawberries, cherries, & raspberries. Deep blue blackberries & blueberries. All nestled into white cakes & whipped cream & creamy cheesecake & yogurt. The perfect flavor & color combination for those upcoming July 4th celebrations & get-togethers! :)
If you happen to be stumped on what to make for dessert on the 4th, then no worries, folks. I have got you covered with this collection of 14 Berry Patriotic Sweet Treats from some of the best food bloggers in the business...
Blue Velvet & Raspberry Buttercream Cookiewiches
Watermelon Pizza from Wholesome Yum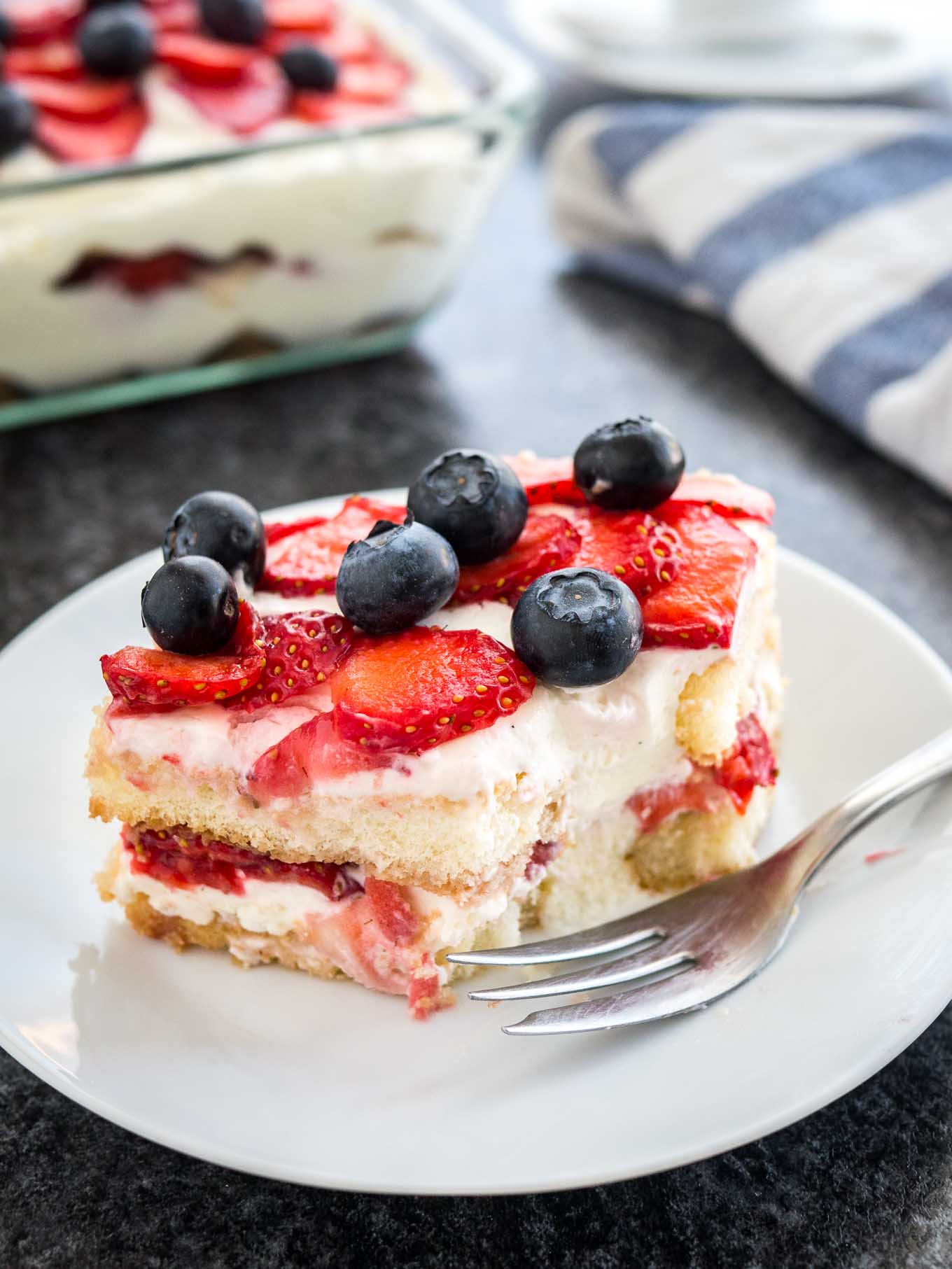 Strawberry Tiramisu from Plated Cravings
Patriotic Honey Poppy Seed Salad
from Cooking on the Front Burner
Red, White, & Blueberry Popsicles from eating by elaine
Mini Patriotic Fruit Tarts from Rachel Cooks
Which of these 14 Berry Patriotic Sweet Treats will you be serving this July 4th? :)
If you loved this perfect for July 4th recipe collection, then you might also like my...